Missions  Updates
Help us to complete this Church Building

 
  MEET NALUGO MAURICIA NALONGO "THE HARDWORKING WOMAN"
It was on the 22nd of February this year when we went for our water well mission to supervise the digging process as it has always been with the other wells. We went to Kayunga Mamba, Gomba district where we met this lady who had spent sometime calling us and narrating the ordeal they go through to get clean water there by asking for a borehole. Nalugo is a single mother in her early 40s living with her children in their muddy house made up of reeds and mud. She has gone through a lot as a mother after being dumped by her husband about 8 years back. She further said she was instructed by God to start church in her home which she resisted so much following what she was going through as a woman after breaking up with her husband. As time went by she resorted to prayer as to seek for God's direction with her kids. God is so good that she regained courage and strength to move on as well as direction on how to handle all things. She decided to get involved in making bricks so that she can use them for building the church. She used to move with her elder son through three villages to get water for making bricks and this is what touched our hearts so much because it's unusual for a woman to lay bricks, this is work mostly considered to be for men and this time she was doing it not for material gain regardless of the challenges at her home but for the sake of God's house, she has been able to build the church up to that level as you see in the pictures. At this point she needs a push up so she can complete the church with roofing and shutters so that they can have fellowship under a shade free from disruption from rain and sunshine.
Therefore, feel free to support this cause as you may feel compelled by the spirit of God. You can donate through our ministry website www.jirehafricamissions.org and indicate reason as "CHURCH BUILDING"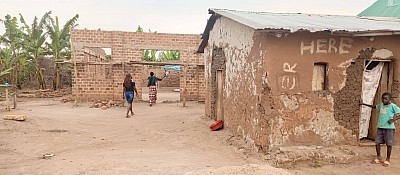 10/25/2020 New Target Project for 2020....Help Us Buy A Well Digging Rig.!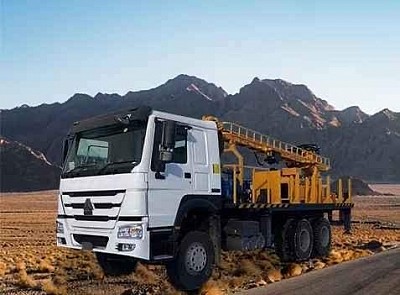 Well drilling rig
Currently, the wells that are dug ny Jireh Ministries Africa, are dug by hand. This is not the best way for this to be done. For instance, the well at Bulyaasi Village in the Mpigi District, is already dug to 22 meters, the dirt at this level is starting to crumble in and is in danger of collapse. If this were to happen when someone was in the well digging they could lose their life. The time it takes to dig a well by hand is close to a month, but with the Well Digging Rig it takes only 3-5 days and is completely safe. For these reasons,  please join with us and donate so that we can purchase this Well Drilling Rig to enable us to drill wells for more villages in the outskirts of Kampala, Uganda Africa.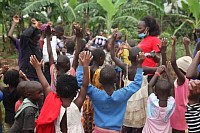 Founder Tonny Mwesigwa's Wife Praying for the Children Before the Food Was Given to 100 Children in Kampala, Uganda
Jireh Africa Missions Make Christmas Bright For 100 Local Children in Kampala, Uganda 
December 24, 2020
Thanks to your generous donations Founder Tonny Mwesigwa and wife Gailey were able to provide food and soda as a Christmas treat for 100 children and their families in Kampala, Uganda. The children were each given 5 kgs ( that's 11 pounds!) of rice so they could have something to eat on Christmas. In addition each child was given a pack of soda pop as a treat for Christmas! They were so happy and grateful. Thank you for making this outreach possible.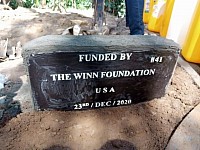 41st well done due to the generosity of the Winn Foundation , USA
Well Completed in Gimbo Village, Wakiso District, Kampala Uganda!
Update December 23, 2020 - We Completed Our 41st Well Thanks To The Generosity of the Winn Foundation, Vancouver, Wa USA.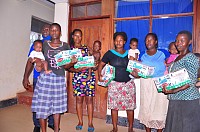 Milk For The Impoverished 
6/13/2020, Jireh Africa Missions Founder, Tonny Mwesigwa, organized this Jireh Kids Care outreach campaign to raise money in order to give milk to families in desperate need of assistance. Through Todd Gaylor, a 7 day Go Fund Me account was set up to accept donations for this outreach.
6/20/2020  We were able, through your generous donations, to raise $400.00 for the endeavor. 
6/24/2020  Tonny was able to give a large box of powdered milk to 75 households  with this money. The recipients were truly grateful.
Pictures have been posted on the top of this page and in our Gallery. Please check them out.
6/26/2020  Tonny launched a new campaign to raise $1,000.00 to buy rice for the impoverished children and their families in his school.
7/22/2020 With the donations received, Tonny was able to give 100 families a huge bag of rice that should last the families a long while. Our heartfelt thanks to all who donated and prayed for this project to be a success. Pictures are posted in our gallery
Jireh Africa Missions wants to sincerely thank all those who participated in this enterprise and to those who contributed. Thank You.
7/23/2020 JAM Founder, Tonny Mwesigwa, announced his plan to raise chickens for the eggs. Poultry farming is a thriving enterprise in Uganda. Once this plan is funded the Jireh Kids Care outreach ministry will be fully funded and 10 jobs will become available for at risk youth.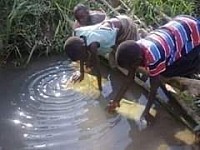 Please Help Finance a Well for Bulyaasi Village, Mpigi District, Uganda.
August 23, 2020
Tonny Mwesigwa, Founder JAM, announces a new fundraiser. With $2;500, Tonny would be able to drill a well for the people of Bulyaasi Village who have no clean safe water in their vicinity. Please consider giving to this important, desperately needed cause. All money goes directly to JAM projects. 
Update: Thanks to your generous donations we have the funds to complete the Bulyaasi Village Well Project.It will be completed October 2020. Praise God.
Below are pictures of the ongoing project.
Shoes for needy children 
August 3rd 2020
The donation of $100 from Donna Wilbanks was put to excellent use when Tonny Mwesigwa, founder of JAM, provided shoes for 25 children who had no shoes at all before this gift. Thanks to Donna and all those who give to JAM. Your gifts make such a difference!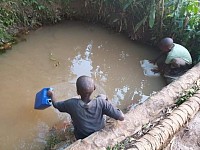 Children gathering contaminated water in the Wakiso District near Kamplala, Uganda
Please help fund a well for the Wakiso district near Kampala, Uganda. The cost is $2500. 
10/22/2020 - Funding Wakiso Well is urgent. The villagers there currently do not have access to safe water. As you can see in the picture the children gather their water from a contaminated pond. We desperately need your help for this village. Donations in any amount are very much appreciated and will help us achieve our goal. Any questions? Please call our founder Tonny Mwesigwa at 256 774 108 155.